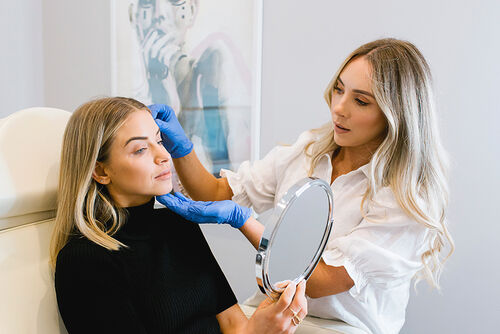 I completed a Diploma of Makeup Services in 2009 which lead me to want to further develop my skills and be a Cosmetic Nurse. I then completed my Nursing course by 2012 and started to learn and gain the experience required to obtain a position in a clinic as a Cosmetic Injector. I have learnt many advanced skills over the last 4 years but have learnt from my clients one universal rule: women/men want to look fresh, flawless and beautiful.
I pride myself on my passion and eye for aesthetics.
When you look beautiful you feel beautiful and that's why I love my job.
My aim is to give you an experience that will boost your self-confidence and leave you feeling your best.
I have advanced skills in anti wrinkle injectables and dermal fillers and have had regular training with pharmaceutical companies including Galderma and Allergan
Cosmetic Medicine/Injectables
The key to looking radiant and youthful is by maintaining your beauty by anti ageing treatments.
Elly offers all clients complimentary consultations so a tailored approach and treatment plan is discussed and achieved.
Antiwrinkle Injectables

Anti-wrinkle injections create a natural-looking freshen up of the face.

Anti-wrinke injectables help to reduce muscle contraction/ relax muscles which cause wrinkles on expression resulting in a reduced appearance of wrinkles and a smoother, younger appearance. Anti-wrinkle injectables are dose dependant and doses differ from person to person. Unit prices range from $4.50- $14 per unit. The most common concerns treated with anti-wrinkle injections are:

Frown Lines
Chin dimples
Lip Flips
Perioral lines/Smokers lines
Softening the lines in the neck (neck lift)
Gummy Smiles
Down-turned mouth corners
Eyebrow Lifts
Migraines
Horizontal forehead lines
Excessive sweating (hyperhidrosis)
Crow's Feet
Teeth grinding
Jaw slimming

Dermal Filler

Dermal fillers are used to replenish & restore lost volume in the face which is the main sign of ageing. Dermal Fillers can also be used to enhance areas of the face such as the lips.

Dermal fillers are made of a substance that is found naturally in the body, hyaluronic acid (HA), it's main role is to attract water and provide hydration to the skin. At the Aesthetic Society we choose from a wide selection of fillers for desired outcomes. Dermal Filler prices range from $495-$750 per ml.

The main treatment areas Dermal Fillers are used in are:

Lips
Cheeks
Tear troughs
Chin
Nasolabial Folds
Jawline
Mouth Corners